Improve motivation and increase performance – with a method that saves you time!
The Manager's Magic Potion is a simple but powerful practice designed to save time for managers while supporting staff development. The practice is a simple five-step process that will help you run a more productive and motivated organization.  Using the Magic Potion allows you to more easily:
• Identify and motivate your star employees
• Identify and address performance problems
• Delegate more effectively
• Develop your staff
• Save loads of time
• Become a better manager
An original program based on years of experience
The Manager's Magic Potion is an original program designed by Julie Lynch.
Over the past 20 years, Julie has coached hundreds of managers in setting expectations, managing performance, navigating difficult relationships, and conducting difficult conversations.  She developed the Magic Potion during the course of this work.
Executives get promoted to management because we're good at what we do.  Because we're strong problem solvers, and we know how to get things done.  So it's not surprising that staff and colleagues look to us for answers, ideas and assurance.  But continually solving problems for others robs them of the opportunity to grow.  It also drains management time and creates a bottleneck that reduces productivity for the entire team.
The Manager's Magic Potion is a proven technique that managers can use to take back our time and foster the independence and productivity in our staffs that we need to be successful.
---
Cost and Availability
The Manager's Magic Potion is available as a facilitated workshop led by Julie Lynch on-site at your organization. In this fast paced interactive program you learn a simple but powerfully effective 5-step process that allows you to take back control of your time and target the projects and talents you most want to develop.
The workshop is designed as a fast and easy way to:
Become aware of how you're using your time
Understand how current approaches negatively impact your team
Learn an easy, five-step process for management effectiveness
Practice the new skill to see real-time results
Create a strategy for communicating and implementing the technique
Base cost: $1500 for one three-hour on-site workshop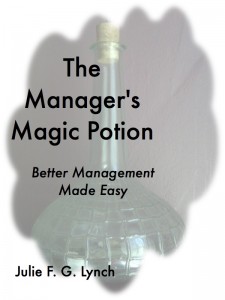 A self-study option is available for $29.95 and the e-book is available for even less!
Contact Julie Lynch to learn more about management best practices and programs designed to drive change, boost productivity and achieve engagement.