Thank you for being an Uncommon Reader! Our **Free Before October 12th** special has expired but you can still find the new e-book here.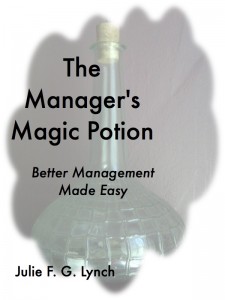 Would you help me spread the word to others? Tweet

And if you are so moved, please leave a comment below to let me know how the Potion has worked for you. I'd love to hear from you!
Here's what other's have said:
"LOVE the concept. I have a tendency to micro-manage. The questions provide me with a tool for imposing the close oversight I want but in a way that helps the employee to grow, and which won't make the person feel like I don't trust them. Nice work Julie, and thank you!"
"Pretty neat little book. I like the content and the presentation style"
"Magic little book. Simple, to the point and super helpful"
What is the Magic Potion?
A simple list of five inquiries – translated into your own words – that can help you:
• Identify and motivate your star employees
• Identify performance problems
• Delegate more effectively
• Develop your staff
• Save loads of time
• Make you a tremendously better manager
It's MAGIC!
Improve your management practice and start saving time TODAY.



The Manager's Magic Potion by Julie F. G. Lynch is licensed under a Creative Commons Attribution-NonCommercial-NoDerivs 3.0 Unported License.