Self-Study e-Workshop:
Self-Study e-Workshop 12-min. video, 4 worksheets, 1 quick-reference card: 75MB Download (zip): $29.95 USD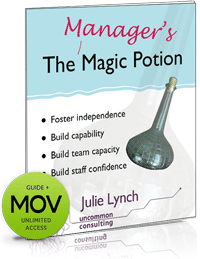 Do you have 30 minutes to free yourself from constant interruptions, lack of team initiative, and unmotivated employees?   Would you like to build a team of resourceful problem-solvers instead?  Take back control of your time – and your patience!
This super-focused e-workshop teaches managers a fail-safe practice to turn problem causers into problem solvers:
An 11-minute Presentation by performance management expert Julie Lynch.
FOUR Action Worksheets
A Handy "Magic Potion" reference card
This program delivers a super-condensed, super-practical tool based on work with hundreds of managers.  See details…