Self-Study e-Workshop 75MB): 13-min video with full transcript, 4 worksheets, 1 handy reference card, $29.95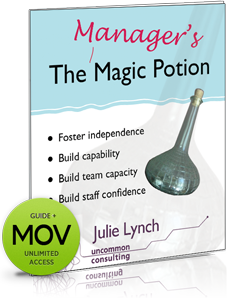 Finally, a simple, proven practice that frees you from the daily onslaught of interruptions and setbacks, to build a team of problem-solvers instead.  Take back control of your time – and patience!
Ideal for time-strapped leaders, this easy 5-step technique is deceptively simple yet incredibly powerful.  Developed by management practice expert, Julie Lynch and based on work with hundreds of managers, this e-course condenses hours of management training into a short, accessible format.
What You Learn
This e-course will show you how to turn problem-causers into problem-solvers.  The Manager's Magic Potion e-course is so simple and effective you can start using this powerful technique within 30 minutes of downloading the program.  Learn how to:
Identify and motivate your stars
Identify and address performance problems in real time
Delegate more effectively
Develop your staff
Save loads of management time
What You Get
Your download contains:
Manager's Magic Potion e-Workshop video (198MB, 12min: 54sec)
Full transcript of video (5-page .pdf)
4 Magic Potion e-Workshop Worksheets (4-page .pdf)
1 Quick-Reference card (1-page .pdf)
What Magic Potion Clients Are Saying
"A practical application and simple steps to improve management performance.  I'll apply this technique across all my departments. Thank you!"
 "The method provides a clear line of analysis to establish what the problems really are AND helps the employee improve and grow in their job"
"I can put this tool to work in both my personal and professional life"
Money Back Guarantee
With a no hassle, 30 day money back guarantee, you'll have a full month to try the program and love it – or I'll buy it back from you. Promise.