Almost as easy as waving a magic wand, this new practice will save you time, improve employee motivation and engagement and increase innovation.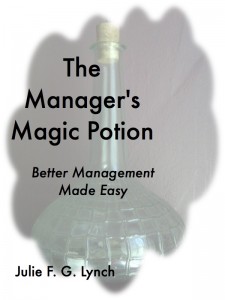 Tweet
As if that weren't enough, with these five easy inquiries you will more easily delegate, manage performance and reward your stars.  In short, you will run a more productive and motivated organization.
Here's what other's have said:
"LOVE the concept. I have a tendency to micro-manage. The questions provide me with a tool for imposing the close oversight I want but in a way that helps the employee to grow, and which won't make the person feel like I don't trust them. Nice work Julie, and thank you!"
"Pretty neat little book. I like the content and the presentation style"
"Magic little book. Simple, to the point and super helpful."
What is the Magic Potion?
A simple list of five inquiries – translated into your own words – that can help you:
•    Identify and motivate your star employees
•    Identify performance problems
•    Delegate more effectively
•    Develop your staff
•    Save loads of time
•    Make you a tremendously better manager
It's MAGIC!
Improve your management practice and start saving time TODAY. 
Only $9.99
Tweet
The Manager's Magic Potion by
Julie F. G. Lynch
is licensed under a
Creative Commons Attribution-NonCommercial-NoDerivs 3.0 Unported License
.