Those who've worked with me over the past few years know that I'm head over heels for the Motivation Factor® Methodology.  Though I've always had a "knack" for moving individuals and teams forward – whether it's toward improved communication, greater engagement in their work, or toward a truly shared objective – I found Motivation Factor was able not only to help ME do that work better, but it also gave me a way to transfer that ability to the teams and individuals themselves.   Here's what it's all about:
The Motivation Factor® Model, Framework, Process, Theory and Certification
The Model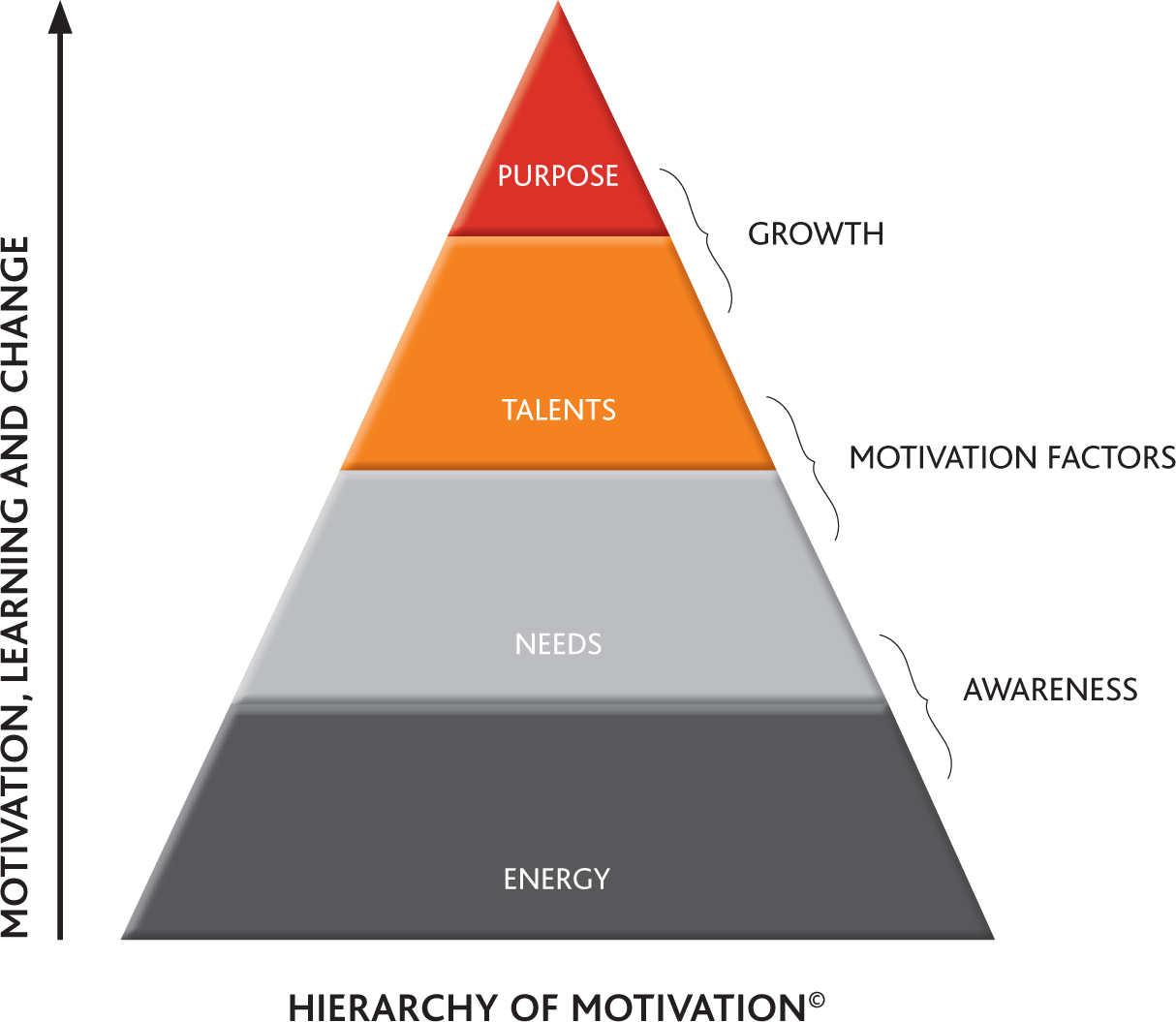 The Hierarchy of Motivation is the basis for Motivation Factor® programs.  The hierarchy illustrates that we must become aware of our energy drainers (Energy) and emotional triggers (Needs) before we are able to tap our Talents and commit to a guiding Purpose for lasting motivation, growth and openness to change.  For coaches, consultants, HR and OD professionals, just this concept alone is useful to apply to our practice as it allows us to align our strategies with the physiological reality of calming the threat response (resistance to change) that blocks us before attempting to move forward.
The Framework
The Motivation Factor® framework follows the hierarchy in that there are six half-day workshops you can draw from including: Objective (to what end are you using the process?), Energy, Needs, Talents, Purpose/Passion, and Commitment.  The workshops can be delivered in a group setting or one-on-one and can be used individually or as a full series.
The Process
A full Motivation Factor® program consists of those six workshops over time – say, 3 – 6 months and is combined with one on one coaching to complement the learnings by putting them into practice.  (Check out the Harvard Pilgrim Health Care case study for the results of a recent full process).  As facilitators of change we know too well that people often don't devote the necessary time to change efforts.  This process helps deliver what they need in a way that's manageable for their schedule.  As well, the workshops and exercises are practical and immediately effective – using participants' real life circumstances and their existing resources to begin to effect real, personal change and growth.
The Theory
Underlying the Motivation Factor® methodology is the all the good stuff we know about learning, growth and change.  It draws from such work as Emotional Intelligence, the neuropsychology of threat response, leading with strengths, the power of purpose, positive psychology and flow theory.  The process itself follows the ideal learning cycle – experience, reflection, application, evaluation – as does each workshop and exercise.
Instead of training others in the theories themselves or simply providing "insight", the Motivation Factor® method provides simple techniques that anyone can use to apply those theories to their personal reality – moment by moment, as needed. The process gives participants the gift of clarity, calm, enthusiasm and passion for their work and life objectives.
Founder, Helle Bundgaard, explains the origins and value of this new approach in this radio interview.
The Certification
Participants in the certification are able to learn the methodology while experiencing it for themselves.  They receive the instructor materials and a first year license upon completion of a three-day training program.  Details are here for those interested.
Certified practitioners are using the method for a wide variety of applications from sales training and team development to one on one life coaching and from student motivation to assimilating former prisoners into mainstream life.  The possibilities are literally endless.
Why do I love it so?
My favorite work is facilitating Motivation Factor® certifications.  Participants are dazzled by the elegance of the framework, the applicability to their work and – maybe most important – by the value they each get from exploring their own motivation factors, their own passions for their work, and the articulation of their work's unique purpose. I guess I love it because everyone who comes in contact with it ends up loving it too.
Are you responsible for motivating and engaging others?  Do you need a new way to move individuals and teams tangibly forward? Find out more.