Unlock the Mystery of Motivation
Finally…a way to teach others the skills they need to get and stay motivated. Discover new scientific approaches to moving even the most disengaged individuals to achieve their goals.
How would you like to crack the code to motivation and engagement?  In fact, what if you could:
Reduce the time you spend trying to influence movement in others
More easily overcome resistance
Boost productivity and more effectively drive change
Improve engagement and satisfaction levels
Hold people responsible for their own levels of engagement
Be recognized as a truly effective agent of change
You can!  In fact, in just three days, you can learn a practical, reliably effective method for getting and staying motivated that will give you the ability to achieve every one of those bullets above.
We know motivation is largely intrinsic.  Yet, as an HR, OD or coaching professional, you are routinely tasked with the job of improving morale, boosting engagement levels and prodding people forward.
Finally…there is a way to teach others the skills they need to get and stay motivated.  How?  Become certified in the Motivation Factor® Method!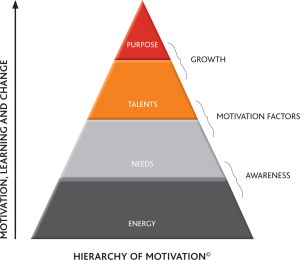 Want to be notified when our next session is scheduled?
The Motivation Factor® Method provides a practical framework for building and sustaining motivation towards personal and professional goals. Drawing from recent developments in brain science, neuropsychology and motivation theory, we give you all you need to teach others to:
Identify and eliminate obstacles to their success
Understand and better manage their own and others' emotional triggers for more productive relationships
Uncover and leverage unique talents which directly impact long term motivation
Discover the meaning and purpose in their work for sustained engagement
This certification provides the latest science behind intrinsic motivation and gives you a practical framework for teaching others to understand and manage their personal motivation factors and to form self-sustaining commitments toward their goals. 
Want to be notified of upcoming certifications?
---
The Motivation Story
After 20 years as a human resources, organizational development and management best practice expert, I felt I knew all the techniques for getting people engaged in their work, motivated toward their goals.  And people told me I was uncommonly good at it.  In fact, I had strong success in motivating individuals; turning around performance; building teams and repairing broken ones; and coaching managers and executives on the best ways to build engagement.
Of course no one can expect 100% success every time so I had come to believe that:
Some people simply will not take responsibility for their own motivation
Some people will continue to use (read: suck the life out of) others to get or stay motivated.
Which meant that as organizations, managers, HR professionals, consultants and coaches, we had to tolerate:
Resistance to change
Lack of productivity
A certain level of disengagement / lack of morale
An inordinate amount of our time being used to cajole people into forward motion.
Being held responsible (as the supposed "change agent") for something we couldn't ever really control: the motivation of others.
But we now know that's not true.
Recent developments in brain science and neuropsychology have given us much greater insight into our performance, engagement, motivation, behavior and relationships.
As a result of this research, we now know that we can be cognitively crippled by:
The obstacles and energy drainers and threats that block our success
Our own and others' emotional triggers that get in the way of productive relationships and smart decision making
And we now know that we can grow disenchanted with, apathetic about, or even resentful of our jobs and our lives when we don't:
Use the unique skills and natural talents that we have to give
Have a sense of purpose or feel that we're making a meaningful contribution
While it's great to know the theory behind our own motivation and it's helpful to understand how we are wired to engage or disengage, it's much much more useful to know how to teach ourselves and others the actual practical skills for putting these theories into practice.  And finally there is a way.
Want to be notified of upcoming certifications?
From Herzberg to Csikszentmihaly to Pink, we've known – and continue to prove – that true motivation comes from things like:
A sense of achievement or mastery
Responsibility and autonomy
Finding meaning in the work Itself
But most people don't know how to effectively manage these motivation factors in themselves or others. Motivation Factor®, first developed in Denmark in 2004, translates the science and the theory into practical action plans for aligning the best human motivators behind the challenges you're facing.
You can apply your most powerful motivators for better thinking and problem solving only if you know what they are and how to leverage them.
The Science Behind the Method
The Motivation Factor® method combines research from positive psychology, neuroscience and motivation into a practical framework that anyone can use.
The scientific research and theories contributing to the Motivation Factor® include:
The neuropsychological effect of Threat Response
Emotional and Social Intelligence
Marcus Buckingham/Gallup's research on Strengths
Martin Seligman's research on Optimism
Mihaly Csikszentmihalyi's Flow Theory
and More!
Motivation Factor® has integrated all of these significant and proven bodies of work into a straightforward, practical set of tools. The method aligns individuals and teams around a clear objective, provides insight and builds trust, and secures personal commitment to that objective leveraging the unique motivation factors inherent in every participant.
An Accredited Training Program
Our 3-day Motivation Factor® Certification Training has received accreditation from
International Coach Federation. The fee for the Motivation Factor® Partner 3-day certification is $2,950 and includes all program materials, first year license, and ongoing mentoring and/or sales support.
To learn about the next scheduled Certification Training program, contact us.
To schedule a program in your area, contact Julie Lynch of Uncommon Consulting at julie@uncommonconsulting.com to determine the location and program dates that work for you.
Program Format and Content
Our certifications focus on YOU as a powerful change agent.  Discover your own motivation factors and find out how to get and stay motivated in your own role while learning the tools to inspire others to do the same.
Day 1
Overview of the Hierarchy of Motivation
Overview of the Motivation Factor® Framework and Process
Objective Workshop: Constructing a clear and common objective
Energy Workshop: Identifying and eliminating obstacles to success
Day 2
Needs Workshop: Identifying personal needs and managing emotional triggers
Talents Workshop: Uncovering and leveraging personal talents
Day 3
Purpose Workshop: Discovering passions and creating a purpose statement
Commitment Workshop: Creating commitment for sustained motivation
The science and theories behind the method
Practitioners receive:
Three days of content rich, experiential training delivered by management and motivation expert, Julie Lynch
access to a powerful new framework to help your clients achieve DEEP TRANSFORMATION.
education in neuroscience, brain research and highly effective discovery, facilitation and coaching processes designed to move individuals and teams tangibly forward.
Motivation Factor® Indicator results to determine personal motivation factors
Full color instructors manual with complete, step-by-step instructions for all workshops and reference section for all supporting theories.
Access to the online practitioner website including presentation downloads, website badges, supporting materials, and online community forum
Periodic webclasses delivered by Julie Lynch on various Motivation Factor concepts, exercises and applications
First year license to use the Motivation Factor® framework, process and brand
Ongoing support and access to information about new developments in motivation, positive psychology and neuroscience.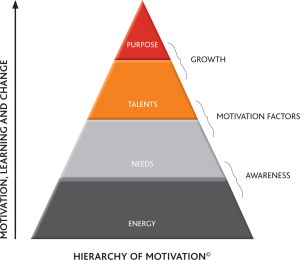 The next certification is not yet scheduled. Want to be notified?
Partnerships and Available Discounts
Are you a current member of ACPI-NE or ICF-NE? If so, you are eligible for a 10% discount on certifications (a value of $295) OR your first 5-pack of Motivation Factor® Indicators FREE (a value of $375) – your choice! To learn more about our partner organizations, please visit their sites below:
Association of Career Professionals International – New England