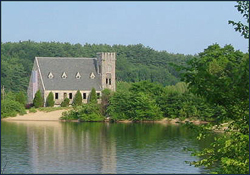 Programs        Faculty       Locations       Calendar of Events
Located in Central Massachusetts in the picturesque town of West Boylston, Uncommon's Center for Meaningful Work offers inspiration and practical tools for personal and professional success.
At the Center we believe that the world of work and life today requires a greater degree of self awareness, resilience and adaptability.  We teach people of all ages how to suffer less and soar more in their current or future work, in their relationships with others and in their relationships with themselves.
Our public workshops and small group coaching programs focus on these key areas in support of meaningful work and life:
Personal Motivation – What drives you, what is it that you really want, and how do you go about getting it?
Personal Growth and Development – How do you define success? How can you remove the obstacles in your path? What do you uniquely have to contribute to the world – and yourself? What are your talents, passions and purpose?
Meaningful work – Discovering and doing work that results in mutual contribution – the contribution you make to the work with your unique skills, talents, passions and purpose and the contribution the work makes back to you in the form of fulfillment, satisfaction and energy.
Who do we serve?  Anyone who wants to contribute their best to the things that are most important to them in work and life. Special programs are also available for students, parents and educators.
Consult our events page for upcoming public seminars and workshops.  Explore the beauty of of Central Massachusetts, take some time to enjoy the many attractions in the area and plan to find Uncommon motivation and meaning!